Lyman's 100th Anniversary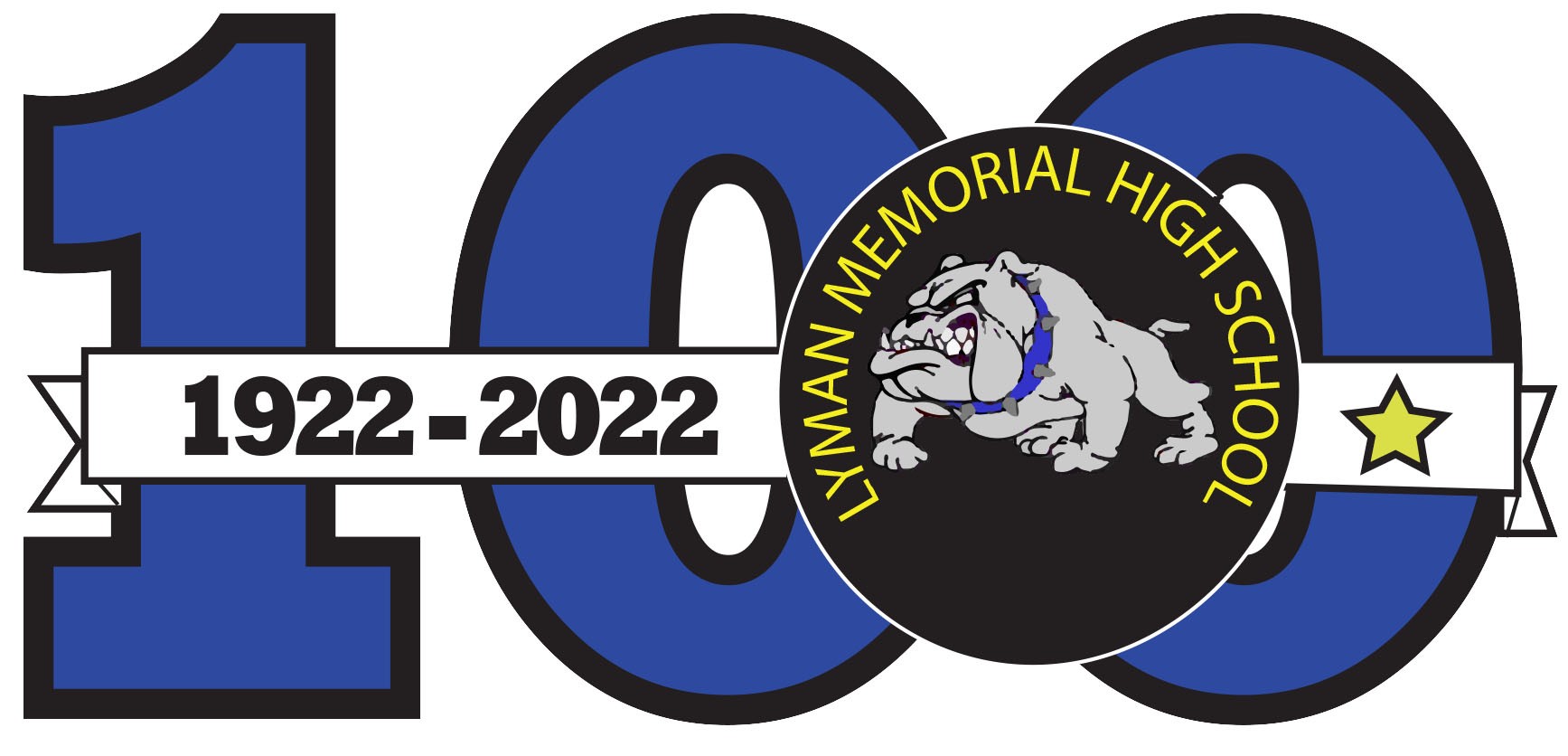 LYMAN MEMORIAL HIGH SCHOOL WILL CELEBRATE ITS
CENTENNIAL DURING THE 2022–23 SCHOOL YEAR
In an extraordinary gesture, upon the December 1919 death of George W. Lyman, he left a major share of his estate to the Town of Lebanon to build a high school. Lyman's bequest of $15,000 towards construction and $36,700 for maintenance ($200,290.50 & $490,044.00 in today's dollars) was accepted by a town vote of 180-16 on October 4, 1920. In accordance with a clause in Lyman's will, the school was to be named after him. The school, located on the town Green where the current Town Hall is, opened September 11, 1922, for Lebanon students grades nine through twelve. There were two members in the 1923 graduating class.
Increasing enrollment resulted in the building of a new school. In 1959, the second location opened at 891 Exeter Road (now the Middle School). The Junior-Senior High School served grades seven through twelve. A Vocational Agriculture Center, serving nine area towns, was built adjourning the school and opened in 1961. Again, another school was needed to accommodate the growing student enrollment. In 1992 the current location at 917 Exeter Road opened for grades nine through twelve.
Now at its third location and building, Lyman Memorial High School still carries the name of the man who had no children of his own but left his fortune to benefit all the children of his hometown.
ALUMNI ANNIVERSARY COMMITTEE PLANNING FOR THIS MILESTONE
An Alumni Anniversary Committee is working in partnership with the Lebanon Historical Society to plan a series of events to honor this incredible milestone. In addition, volunteers are working hard to find and identify the stories and objects from Lyman's past, which will culminate in a commemorative history of the school.
To help with our efforts, I am still looking for (scans are accepted):
1923 and 1925 graduation ceremony programs;

1940 and 1944 yearbooks;

class photos (caps and gowns) identified with graduates' names as they appear for the Classes of 1923, 1924, 1962, 1964, and 1972.
Other items I am looking for include (but are not limited to) from any year:
photos of the three Lyman locations, their construction, and dedication ceremonies;

photos of proms, initiations, graduations, class nights, the band in parades;

photos and programs from concerts, drama productions;

programs from class nights; prom invitations and bids;

photos of sports events and Vo-Ag/FFA programs and projects;

Athletic Banquet booklets, National Honor Society & Tri-M induction programs;

Lymanite newsletters, the Bulldog, newspaper articles about any event or sport;

band and sports uniforms;

Lyman memorabilia, including pins, pennants, graduation medals, etc.
If you have any of these items, please e-mail Barbara Wengloski at LymanMHS100years@gmail.com. Both scanned and original flat items will be welcomed. Please date and identify the people and places in photos. If you have original objects such as trophies, uniforms, or other memorabilia, please contact me about lending or donating these for exhibits at the school or the Historical Society Museum.
Original flat items can be scanned at the Lebanon Historical Society (856 Trumbull Highway; 860-642-6579) and will be returned. Any donated items will be offered to the Society and accepted at the discretion of their Collections Committee. We will ask you to sign a permission receipt for both scanned and donated items.
Anniversary Committee:
Jay Apicelli, Lyman Memorial Principal,
Barbara (Brewster) Wengloski-Class of 1979,
Mary Lou (Padewski) Beckwith-Class of 1960, Shayla (Kuzel) Coutu-Class of 1980,
Faculty liaison: Molly (Lyon) Lathrop-Class of 1982, Catherine (Petrowski) Pomerleau-Class of 1990,
Emily Sciglimpaglia-Vigue - Class of 2012, Kendall Breault-Class of 2023
PLEASE HELP US SPREAD THE WORD TO OUR LYMAN ALUMNI,
AND
"Lyman-Memorial-High-School-100-Year-Anniversary."
or contact
LymanMHS100years@gmail.com
Anniversary Celebration and All Class Reunion: September 9-10-11, 2022
Reunite with classmates
Sporting events, dancing, displays, tours, food and much more!
The Tentative Schedule is Available. It can be found here, on our Facebook page and in print at various locations around town.
EXCITING NEWS!
The Lyman 100th Anniversary Committee is pleased to announce that we are accepting donations through PayPal!
Donations will be used for 100th anniversary celebration supplies, advertising and publicity, signage, merchandise, activities for the Lyman school population, 2023 graduation recognitions, etc.
Please click on the link: https://www.paypal.com/paypalme/lyman100years , and reply "Donation" as your answer.
For those who wish to donate and pay by check, a donation form is also available.
REGISTRATION FOR THE 100TH ANNIVERSARY CELEBRATION IS NOW AVAILABLE
WHY REGISTER?
With thousands of Lyman alumni and their families eligible to attend our celebration, the committee would like to know in advance how many will join us.
Registering prior to the date will help with planning, food, merchandise ordering, venue capacity, etc.
There is a $10.00 non-refundable fee per person; current K-12 students are free. This fee covers celebration expenses.
Please click on the google forms link and complete the registration form
https://docs.google.com/forms/d/e/1FAIpQLSe30wRawmTnhMZ28SHSd5c5NUycpeVrw_PAJNrceRvjGirtfg/viewform?usp=sf_link
Printed copies are also available in various locations around Lebanon including the churches.
Payment can be made by check through the mail to the address on the form or through PayPal.
https://www.paypal.com/paypalme/lyman100years (answer: "Registration")
You will not be considered registered until payment is received.
Registration deadline is August 21, 2022.
Please continue to follow us on Facebook or through this page for updates.